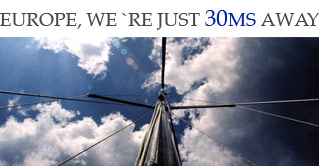 Vps Solution is a European web hosting provider, providing you with reliable hosting services, VPS hosting, reseller hosting plans, shared hosting plans, and dedicated servers. Host your site with Vps Solution, and secure reliable hosting on the fastest and low ping servers in Europe. With typical pings of 30ms to most of Europe, we provide an excellent foundation for your business.


Vps Solution Servers & Datacenter
Vps Solution owns the most reliable and powerful enterprise class hosting servers by IBM, Dell, and HP. We own and operate enterprise class Xeon MP servers.
Our Datacenter's network is 100% Cisco powered, from the switch to the core routers. Our multi-homed European network offers 37Gbps total network capacity using 9 network carriers.
VPS control panel comparison

Vps Solution is an SW-Soft Gold Partner, which allows us to provide our end users with the highest quality of support & response time.
Web Hosting plans to fit every need, Linux or Windows servers available.
5 GB Disc Space
75 GB Monthly Bandwidth
1 Domain
30 Email Mailboxes

from €17.95

5 GB Disc Space
125 GB Monthly Bandwidth
3 Domains
100 Email Mailboxes

from €25.95







Virtual Private Servers are available with all the major control panels, Plesk, HSPcomplete, cPanel, and DirectAdmin. Servers are also available without a control panel loaded, delivered with full root access.

VPS hosting servers with root access, unlimited domains on Linux or Windows servers.
VPS 250P
10 GB Disc Space
250 GB Monthly Bandwidth
Unlimited Domains
Unlimited Email Mailboxes

from €42.95

VPS 450P
15 GB Disc Space
450 GB Monthly Bandwidth
Unlimited Domains
Unlimited Email Mailboxes

from €59.95

VPS 650P
20 GB Disc Space
650 GB Monthly Bandwidth
Unlimited Domains
Unlimited Email Mailboxes

from €76.95

VPS 850P
20 GB Disc Space
850 GB Monthly Bandwidth
Unlimited Domains
Unlimited Email Mailboxes

from €110.95

With our Reseller hosting plans, you can resell our web hosting services under your own brand name.
Reseller 450P
10 GB Disc Space
100 GB Monthly Bandwidth
Unlimited Domains
Unlimited Email Mailboxes

from €25.95

Reseller 550P
15 GB Disc Space
125 GB Monthly Bandwidth
Unlimited Domains
Unlimited Email Mailboxes

from €33.95

Reseller 650W
15 GB Disc Space
200 GB Monthly Bandwidth
Unlimited Domains
Unlimited Email Mailboxes

from €42.95

Reseller 750W
20 GB Disc Space
300 GB Monthly Bandwidth
Unlimited Domains
Unlimited Email Mailboxes

from €59.95